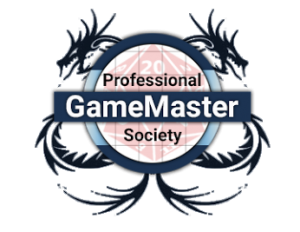 Frequently Asked Questions
What is the Professional Gamemaster Society?
We are a society of Gamemasters who wish to produce high quality RPG experiences for players who are willing to pay for the service.   Our Society was formed in order to facilitate the development of a Professional class of Gamemaster, and we intend to provide resources to facilitate the growth of this concept.
What Phases do you plan for rolling out the Society?
Phase 0 – Planning and Infrastructure building

Build the Website
Provide an initial usable platform for Pro GMs to get oriented with, including helpful documents, and a get started Guide.

Phase I – Initial Roll Out

An HQ Website that allows GMs to host their resumes within in the context of the Society and provides some assurances to potential buyers of GM services that the idea is a valid one, and that there is an organization around developing the model and promoting the growth and success of the concept.
A small and simple list of Standards Policies & Guidelines

Phase II – Development

Filling in the gaps by collaborating on documenting our experiences and methods in order to derive a more complete set of Standards, Policies & Guidelines.
Creating better Professional GM Support tools.
Working on the Advanced Version of the Website
Growing the Community

Phase III – Maturity & Expansion

A completed full feature Professional Gamemaster Society Website, and continued refinement and development thereof.
A complete set of Standards, Policies & Guidelines
Establish Pro-GMing as the dominant form of Entertainment of the 21st thru 23rd Centuries.
What are your Standards, Policies & Guidelines?
We plan to provide comprehensive Standards, Policies and Guidelines in Phase II and III.  Until then our Organization will hold a very simple set of Guidelines.  Among them will be a recommending pricing for various Pro GM Business Models, as well as a few other items to be determined shortly.  In later Phases these Standards will become more formalized and clearer.
For now we are starting with these simple Guidelines for Professional Gamemasters in regards to conducting Professional quality games:
1. Be courteous, respectful and well organized for your game clients.
2. Do not cancel game events without prior notification to your game clients.
3. Do not make complicated financial arrangements with your clients such as complicated return policies – just keep it simple.
4. Be courageous.  Create great stories.  Use technology wisely wherever it improves your game.
5. Be a gardener of your game – prune whatever is dead quickly to keep the game lively.
6. Be entertaining.  Use voice, improvisational description, and literary motifs to your advantage.
7. Have fun with what you do.