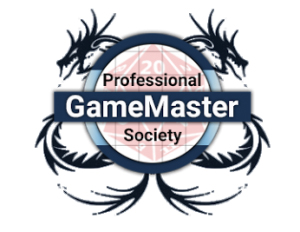 Our goal is to cultivate methods of excellence in Gamemastering and achieve professional quality gaming.
Our mission is to support and collaborate with GameMasters who wish to dedicate themselves fully to the art. We hope to raise the level of quality and improve the experience of Role Playing Games. To achieve this we believe GameMasters need to push the upper boundaries of the art via Professional GameMastering. By being compensated GameMasters can devote more time, thought and creative energy to the crafting of their Worlds and playing of their games. We feel this will help to improve and expand the hobby, and our hope is that the Professional GameMasters of the future will be as richly rewarded, and provide as much joy to their fans as musicians, artists and writers.
---
To help facilitate the growth of Professional GameMastering, we intend to provide the following services.
A Members Listing for Individual GameMasters & Game Clubs
Information on how to become a Professional GameMmaster

Standards, Guidelines & Policies
Advice & Education
Turnkey "Get Started" Documentation

Accreditation for Professional GameMasters (Phase II – under discussion)
Our primary support group has been the Professional GameMaster Society community on Google+.  For general discussions with the community please join us there.  Thank you.