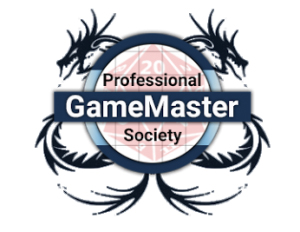 Welcome to the Professional GameMaster Society. Our mission is to collaborate with and support RPG GameMasters who wish to make a career of the art.
---
We believe that by bringing the art of GameMastering to a higher level of quality we can help to improve the experience of Role Playing Games. In order to dedicate our time and energies fully to the art with this goal in mind requires that GameMasters be compensated sufficiently. Hence the call to Professional GameMastering.
---
To help facilitate the growth of Professional GameMastering, our intention to eventually provide the following services and more.
A Members Listing for Individual GameMasters & Game Clubs
Information on how to become a Professional GameMmaster

Standards, Guidelines & Policies
Advice & Education
Turnkey "Get Started" Documentation

Accreditation for Professional GameMasters (later Phase)
We are currently in Phase 0, which is the brainstorming and initial development phase.  Our support group is The Gamemaster Society community on Google+.  For interactions with the community you may contact us there.  Thank you.